Deathmatch is a game mode which is almost available in all FPS (First-person shooter) games. It is famous and also widely played. Deathmatch does not have any main objective and respawning is an important role in deathmatches.
Counter-Strike Online
Edit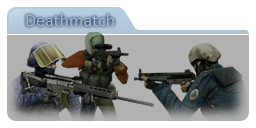 Deathmatch
is a game mode in
Counter-Strike Online
. Deathmatch is a unofficial modification for the original Counter-Strike. Deathmatch returns as an official game mode in
Counter-Strike Online
.
In Deathmatch, there are no teammates. The players joining a team will also have to fight each other and gain the highest score to win the game. This mode has respawning. Depending on the room setting, the player who reaches the target kills will win the game.
Compatible Maps
Edit
Ad blocker interference detected!
Wikia is a free-to-use site that makes money from advertising. We have a modified experience for viewers using ad blockers

Wikia is not accessible if you've made further modifications. Remove the custom ad blocker rule(s) and the page will load as expected.