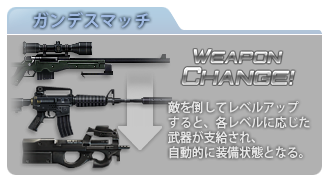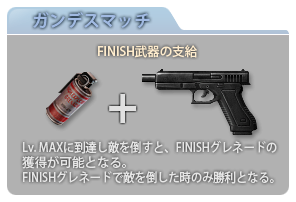 Gun Deathmatch is a game mode in Counter-Strike Online based on a custom game mode in Counter-Strike, Gun Game.
Based on Deathmatch, this mode only has one extended round. When starting the game, the players are given strong weapons. If the player kills a certain amount of enemy, weaker weapons are given and so on. The last weapon is Glock 18. If the player managed to kill an enemy with Glock 18 the player will be able to obtain HE Grenade to kill an enemy. Once happened, the match will be over and the player will be chosen as the winner.
Compatible Maps
Edit
Arrangement of Weapons
Edit
Level
Weapons
1
2
3
4
5

6

7
8
9
10
11
12

13
14
15
16
17
MAX
+
In some maps, one team may get an advantage due to the map design.