Counter-Strike Online
Edit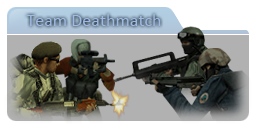 Team Deathmatch is a game mode in Counter-Strike Online. In original Counter-Strike, Team Deathmatch is a custom modification, which is unofficial. Team Deathmatch returns as an official game mode in Counter-Strike Online.
Like Original Team Deathmatch still covers the fight between the Counter-Terrorists and Terrorists. However, the main objective for this mode is to eliminate the opposing and the team that reaches the target kills wins the game. Players that were killed will respawn after 5 seconds and remains invincible for 3 seconds upon respawn.
Compatible Maps
Edit
In some maps, one team may get an advantage due to the map design.